Highlights from our projects
Frictionless Data
Frictionless Data is a collection of lightweight specifications and tooling for effortless collection, sharing, and validation of data. After close to 10 years of iterative work on the specifications themselves, and over a year of fine-tuning, we were delighted this year to announce the release of the Frictionless Data specifications V1.0, including Table Schema and Data Package. Through our Tool Fund we have been able to support the community building on this work to build a robust set of pre-built tooling in Python, R, Javascript, Ruby, Java, PHP, clojure, Julia, SPSS and Go.

Through the support of the Sloan Foundation we continued to explore the use of Data Packages in research and to this end we have completed pilots demonstrating our approach in real-world situations with partners including the UK Data Service, eLIfe and the Western Pennsylvania Regional Data Centre, amongst others. In addition to this we have been excited to see the approach picked up by other organisations which we have documented in a series of case studies.
2017 saw the launch of datahub.io, built with our partner Datopian, as a place to find, share and publish high quality data online as data packages. Part of this work included work to update our 'Core' datasets.
Csv,conf,v3 in Portland Oregon, was yet again a highlight of the year and brought together data makers/doers/hackers from various backgrounds to share knowledge and stories about data. The event was co-organised by the Frictionless Data team and included presentations from several people and facilitation of "Data Tables", an event to showcase and workshop approaches and technology for working with tabular data.
We have began work on a project funded by the Open Data Institute to create a data publication toolkit which will be specifically targeted at both technical and non-technical users of data, within the public sector, businesses, and the data community.
We have been able to thoroughly review a set of documentation and guides written showing the benefit of our approach for a range of use cases. At the end of 2017, we are seeing a self-sustaining community around the tools and specifications emerging.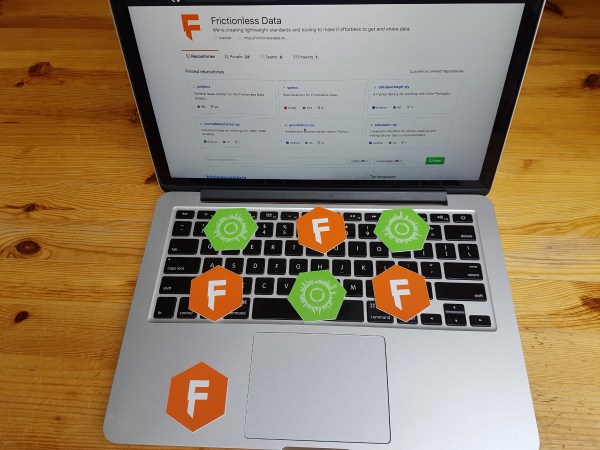 Global Open Data Index
The Global Open Data Index (GODI), is a project to measure and benchmark the openness of government data around the world, presenting this information in a way that is easy for people to understand and use. With support from the Hewlett Foundation and Open Data for Development, we have learned about users of GODI, how they mobilise around it, and discovered larger issues around open data publication, including inconsistent licensing and data quality issues.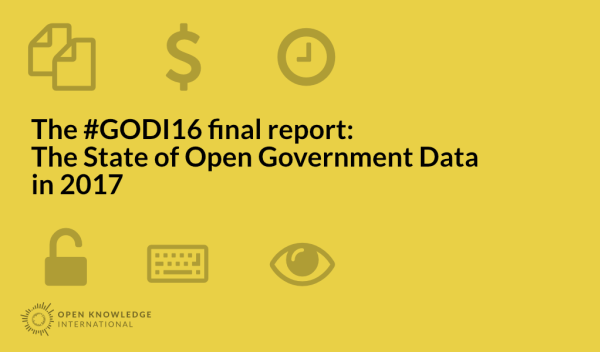 Three main lessons learned from the entire process can be found in the following research pieces:
Governing by rankings – How the Global Open Data Index helps advance the open data agenda - Indicators are governance tools not only to benchmark, but also to drive progress around the objects they measure. But do open data indicators translate into better open data policies and publication of better data? This piece traces the actors mobilised around GODI, how they use different aspects of GODI (country results, individual data scores), and how this helped drive progress around open data.
How do open data measurements help water advocates to advance their mission? - Open data measurements like GODI are useful for governments to assess their own performance. But how do different members of civil society perceive the usefulness of open data measurements for their mission? This user study describes how access to water advocates perceive the Global Open Data Index and what information an indicator should include to increase relevance for them.
The State of Open Government Data in 2017 - A synthesis of GODI results, summarising key issues for open data publication and outlining solutions for different interest groups.
Most of the lessons and the discussions during the process of making GODI happen are registered in the Open Knowledge Forum under the Open Data Index 2016 topic. As a final step, we have decided to re-evaluate, along with the community, what is the best way to continue with the research around government open data publication.
Open Spending
OpenSpending is a project to unlock public fiscal data by making it easy to upload budget data and visualise it. OpenSpending is a free, open and global platform to search, visualise and analyse fiscal data in the public sphere. In that regard, we are working closely with governments and civil society organisations to increase fiscal transparency around the globe.

OpenSpending tool enhancements
Thanks to our partnership with the Global Initiative of Fiscal Transparency (GIFT), our development team has made major enhancement on the OpenSpending Viewer, based on inputs of GIFT government partners. The iteration of the Fiscal Data Package as to its compatibility with other fiscal data standards, such as the Open Contracting data standard, is also on it's way. And since the OpenSpending community now more and more comprises government partners, we took to heart the requirements governmental agencies have when publishing their budget data on OpenSpending. Platform monitoring services are now available.
Also, as part of the GIFT partnership, we are now working with the Ministry of Finance of Colombia to use OpenSpending to publish it´s budget data, as well as with the Ministry of Finance of Guatemala was also interested in getting to know the OpenSpending tools better, and we led them through an upload session with their data. The Ministry of Finance of Burkina Faso is another possible trial partner to use OpenSpending.
OpenBudgets.eu
2017 saw the wrap-up of openbudgets.eu, a 3-year Horizon 2020 project to upload, visualize, analyse public budget and spending data. In collaboration with eight other civil society and academic partners, the OpenSpending platform is now offered as part of the tool box component to make fiscal data more accessible and tangible. The different tools address public bodies, journalists and data wranglers alike to upload and visualise budget data, to explore new ways to gain insight and offer journalistic investigations into the realm of fiscal data.
With the support of the Adessium fund and in collaboration with Open Knowledge Germany, we launched subsidystories.eu, a platform that offers EU subsidy data. The platform intends to increase transparency of EU funds by unravelling how the European Structural Investment Funds are spent. Open Knowledge Germany followed up on this project by creating storyhunt.de, a series of workshops to support open data advocates and journalists to work with fiscal EU data.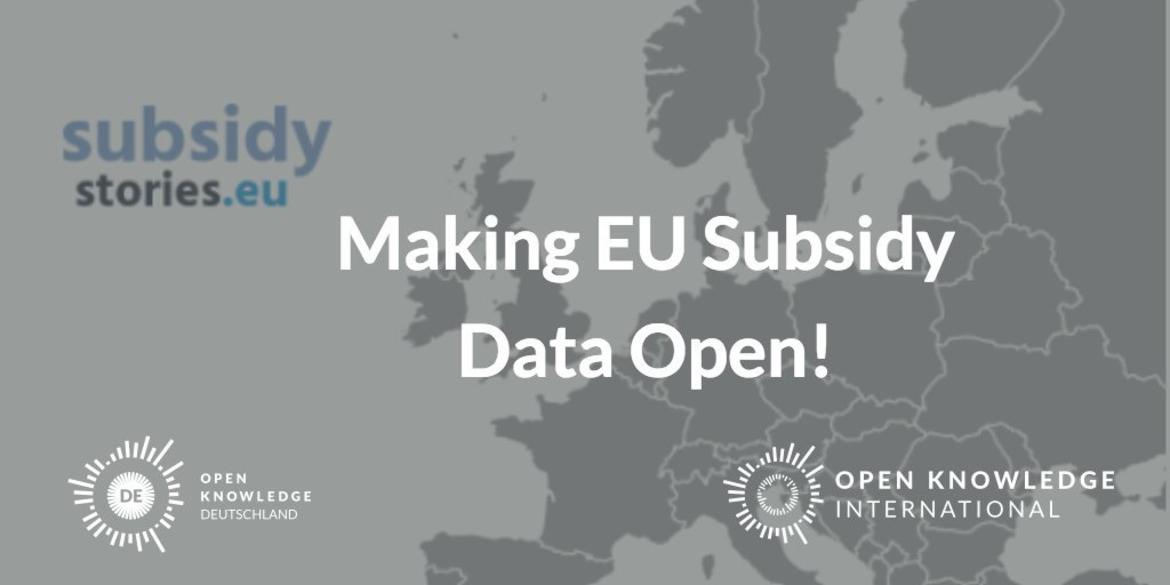 OpenTrials
OpenTrials is a collaboration between Open Knowledge International and Dr Ben Goldacre from the University of Oxford's Evidence-Based Medicine Data Lab. It aims to locate, match, and share all publicly accessible data and documents, on all trials conducted, on all medicines and other treatments, globally. Following the beta launch at the end of 2016, OpenTrials finished Phase 1 funding in the spring of 2017 – this means that the team is having a break, with the project on hold until we secure Phase 2 funding. The OpenTrials search tools and API can be tested through explorer.opentrials.net: a summary of what we've built, events we've been involved in, some challenges and successes of the project so far and details on how to get involved can be found on the OpenTrials blog.

School of Data
School of Data is a global network dedicated to advancing data literacy in civil society. Since 2012, we have been working with CSOs and journalists to amplify their work with data: raising awareness of its possibilities and teaching the skills required, and training trainers how to pass this knowledge on.

In 2017, we ran the fourth edition of our annual fellowship programme, in which we aim to recruit and train the next generation of data leaders and trainers to magnify the reach of our data literacy programme. This year, we continued the thematic approach pioneered by the 2016 class and therefore recruited individuals who already possessed experience in a specific area of data literacy training - for example, extractives data, and with an established network of practitioners already working within this field. We recruited some fantastic applicants for our class of 2017 fellows, who are based in Senegal, Cote D'Ivoire, Haiti, Myanmar and Guatemala.
2017 also saw the formal launch of our Data Expert programme, which aims to enhance the abilities of CSOs already versed in data literacy, to manage and deliver data driven projects. It was designed to complement the School of Data Fellowship and for it, we recruited candidates of a slightly different profile. Data Experts are expected to be more senior than fellows, with demonstrable technical and project management skills. A Data Expert may work in two ways: by being embedded in a specific organisation, and working intensively to transform this organisation, or by mentoring a small number of organisations that are selected for their projects. This year we were delighted to recruit two data experts, both working in the field of extractives data, in Tanzania and Uganda.
For both programmes, we partnered with organisations interested in working on the fellows'/experts' respective themes, who have provided the Fellows and Experts with guidance, mentorship and expertise in their respective domains.
In May, both Experts and Fellows came together during an in-person Summer Camp in Dar Es Salaam, Tanzania to meet their peers, build and share their skills, and learn about the School of Data way of training people. Right on the beach, the location couldn't have been better and the sun always shone! For the first time, Summer Camp went live, with broadcasts of many sessions going out throughout the days. We had great feedback and are really pleased that we were able to open up the event and have many more people virtually join us.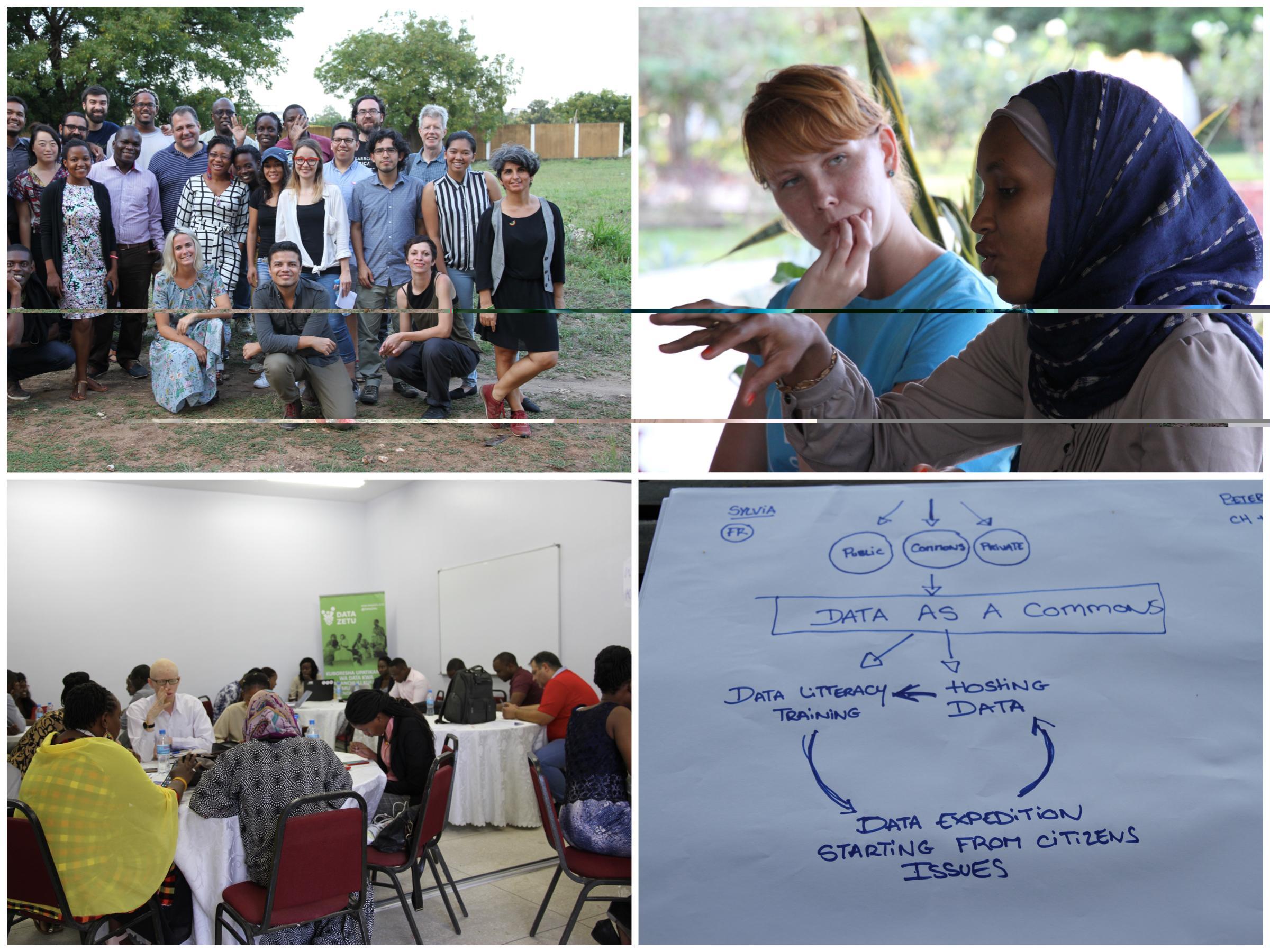 CKAN
CKAN is the world-leading open source software for Open Data portals. Open Knowledge International is part of the CKAN Association Steering Group and an active member of the community that helps maintain it. The main focus in 2017 for us has been on increasing the capacity of the CKAN Technical Team, the team of developers tasked with the maintenance of the core CKAN source code and responsible for technical decisions about it. We started a process of mentoring new developers in order to familiarize them with the code base and the processes around it. That involved the assignment and reviewing of increasingly complex tasks, guidance on particular issues, pair programming, etc. In parallel to this mentoring, there was an effort being made to improve the documentation to make easier for new developers to familiarize themselves with the workings of the code base and the Technical Team.

The other front where we dedicated resources was the promotion of external contributions. These are contributions in form of code (bug fixes, new features, etc), new documentation, testing time and others which are carried out by other members of the community. To increase these, apart from the improvements on documentation mentioned before, we engaged with developers to involve them in the process of getting new features or fixes into the code base, encouraging them to submit patches under the guidance of a member of the Technical Team.
In parallel, we leveraged our existing CKAN expertise to support tasks around development and maintenance of the main CKAN code base. More specifically we have mentored and supported the new members of the technical team on three main areas: Migration of the code base to a more modern web framework Processes around the release of a new CKAN version Handling and patching of reported vulnerabilities by the community